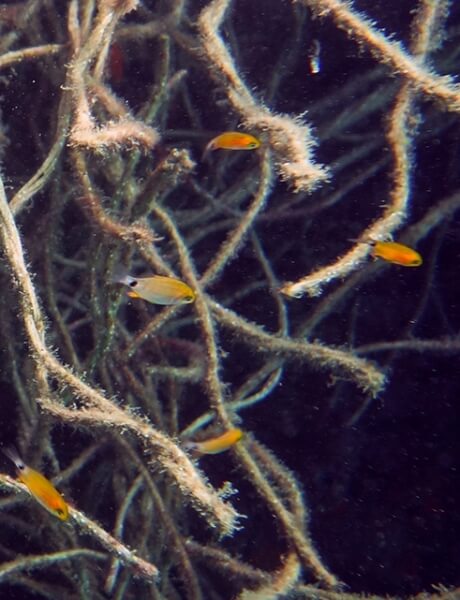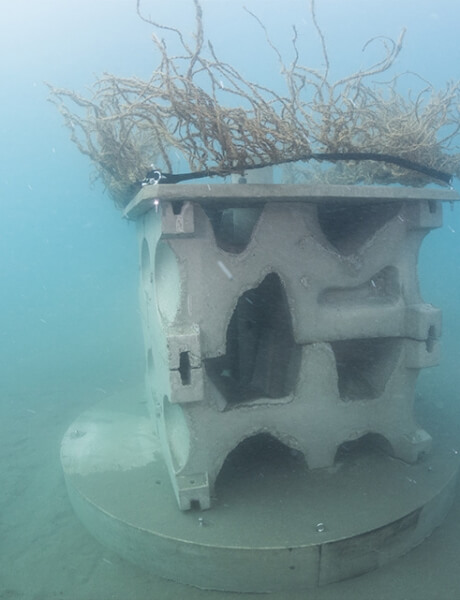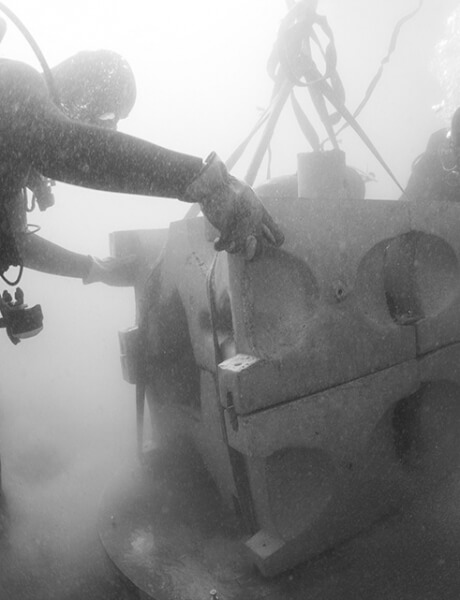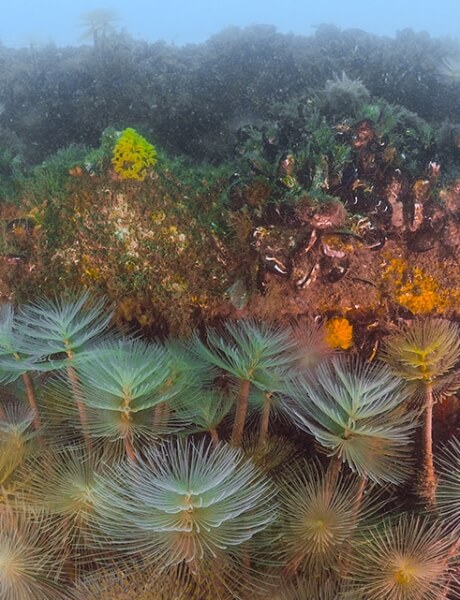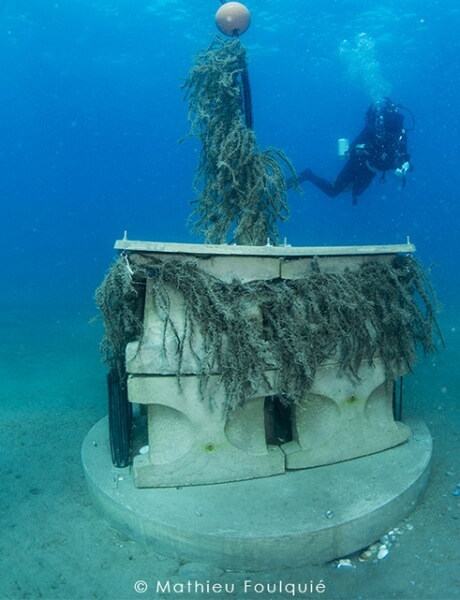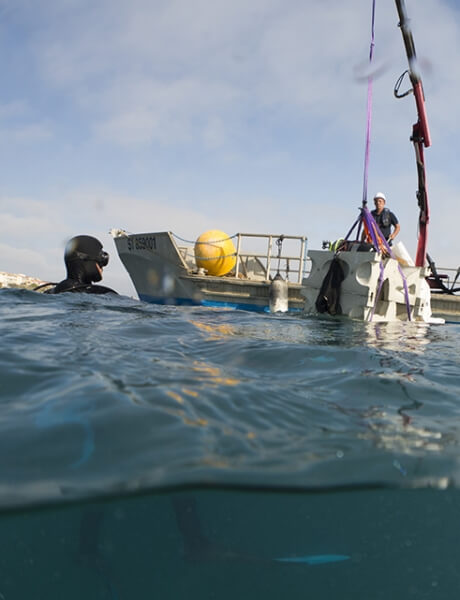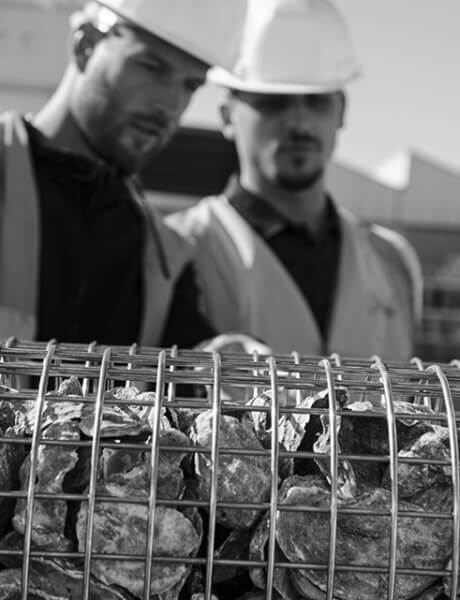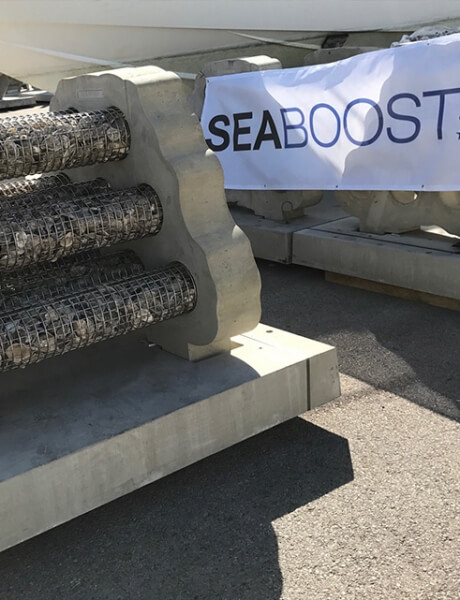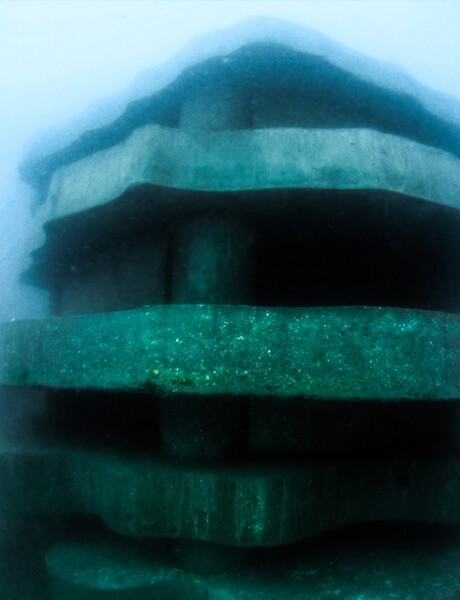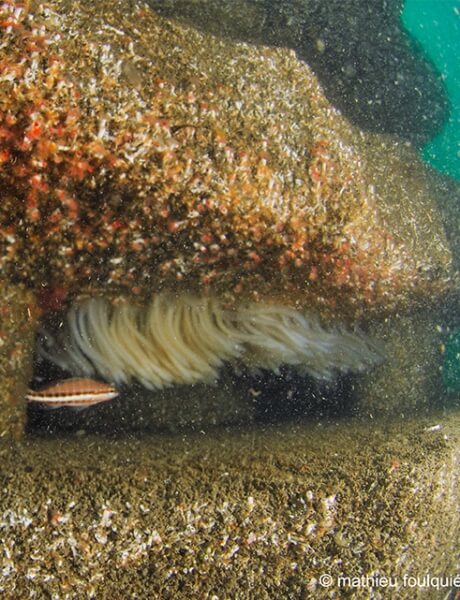 Inventing & operating
A world of sustainable solutions to harmonise human activities with marine biodiversity
Coastal development and overexploitation of fishing stocks have upset the balance of marine ecosystems
Environmental consequences are numerous and sometimes even irreversible:
Fall in marine biodiversity
destruction of key ecosystems (coral reefs, mangroves, sea grass, etc.)
Loss of key ecological functions (nurseries, reproduction, etc.)
drop in ecosystem services (marine resources, tackling erosion and flooding risks). 
Climate change is making these already degraded environments more vulnerable and the challenge of getting Humans to cohabit harmoniously with the sea is more pressing than ever.
Seaboost is helping to meet this challenge by working every day to deploy innovative, concrete and operational solutions to harmonise human activities with marine biodiversity.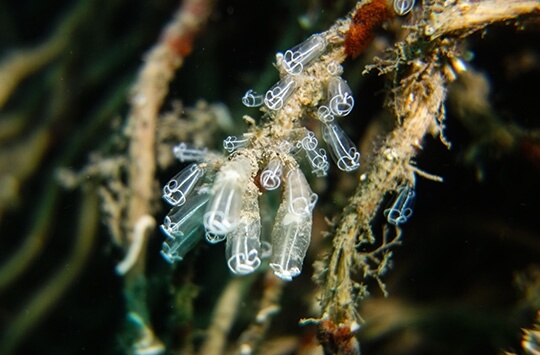 Our skills and services
Design - Manufacturing - Construction work
Our team and our partners have all the necessary skills to provide a turnkey service to rehabilitate marine biodiversity .
Ecological audits
Designing and creating restoration solutions
Designing structures and stability studies
Working methods and creating biogenic materials
Financial optimisation
Manufacturing and delivering solutions
Construction works and project management
Biological and structural monitoring
Promotion and communication
Consulting and technical assistance
R&D
Industrialising or optimising existing solutions
Thanks to this complete and unique range of services, Seaboost is a pioneer which has linked the ecological world to the marine construction sector
Preferences and requirements for target species, biological mechanisms, functional supports, structural characteristic of habitats to reproduce... Designing our solutions, requires an in-depth knowledge of marine ecology. Our know-how extends to the ecology of rivers and lakes.
Manufacturing feasibility, industrial processes and economic performance... Thanks to our construction skills, we can provide effective solutions in terms of costs, volumes and implementation methods
Our expertise in oceanography and engineering works for marine and river structures allows us to design and produce stable, long-lasting facilities, for technical or ecological purposes (ballast, mitigating ocean swell, controlling erosion). In addition, our solutions factor in the structural and operational constraints of the structures on which they are deployed.
A full and unique range of skills provides a unique synergy between ecology, engineering and marine construction projects.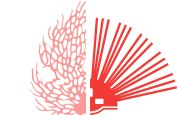 Biomimetics
Understanding and drawing inspiration from nature.
Our designs and solutions are based on structures and phenomena that are found in nature, to achieve a triple goal: effectiveness, integration, safety.
Effectiveness: bioimetics provides an effective answer to the needs of species, as it reproduces the characteristics of their preferred environment.
Integration: biomimetics ensures that the solutions integrate harmoniously within ecosystems in terms of biological, physical and landscape aspects.
Safety: biomimetics avoids any undesirable effects related to submerged devices that are inconsistent with the specific properties/characteristics of the environment.
Sécurité : le biomimétisme permet d'éviter d'éventuels effets indésirables liés à l'immersion de solutions incohérentes avec certaines propriétés / caractéristiques du milieu.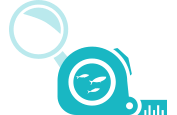 Customisation
We have a customised approach to our services, products and partners
Service: Targeted or full support
We support you across all or part of the design, development, optimisation, manufacturing and implementation chain for offshore ecological engineering solutions and for all or part of the expert ecological, engineering, construction work. We also provide advice and technical support.
Products: Each project has its own solution
In our continuous search for performance, Seaboost is constantly innovating:
By adapting existing solutions or developing new solutions, by using any additional expertise required to deal with specific issues
Partnerships Seaboost develops all kinds of technical, industrial and scientific partnerships.
Performance
Seaboost: a start-up, subsidiary of the Egis Group.
Backed by the experience of the group, Seaboost is a strong, reliable partner for your most ambitious projects.
Our team's innovative strength, dynamism and manageable size ensures you receive a proactive, efficient service.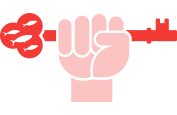 Optimised turnkey solutions
Effective, economic, large-scale solutions
If there is to be a lasting effect on ecosystems, we are convinced of the need to deploy large scale solutions. We strive every day to enhance our designs, processes and implementation methods.
Seaboost is constantly searching to develop solutions which are enhanced in order to be effective, ecological, sustainable and cost efficient.
Pioneers
in eco-design and artificial reefs
Our team has more than 10 years recognised and unique experience in artificial habitats and eco-design of offshore structures.

Winner of the 2010 'Biodiversity and companies' award
from the Ministry of the Environment